The Atmospheric Sciences Department offers a Bachelor of Science (B.S.) degree with three concentrations that prepare students for employment upon graduation or for further studies at the graduate level.
Concentrations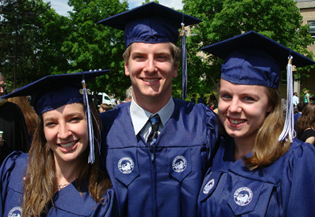 The Broadcast Meteorology concentration prepares students for a career in broadcast meteorology and emphasizes weather analysis, forecasting, public speaking, and studio experience.
Both the Climatology and Weather Forecasting concentrations fulfill federal Civil Service requirements for employment as a meteorologist. The Climatology concentration provides strong preparation for graduate work with an emphasis on climatology, mathematics, and statistics. NOAA's National Centers for Environmental Information (NCEI), located in Asheville, offers a unique resource for our students, especially those seeking eventual employment as climatologists. In the Weather Forecasting concentration, students learn about weather analysis and forecasting and how to communicate meteorological information to the public. All students are encouraged to focus their career objectives through enrollment in elective courses and internships.
Course Requirements and Sample 4-Year Plans
Review the course requirements in the UNC Asheville Course Catalog for each of the atmospheric sciences concentrations and atmospheric sciences minor. You may also view a sample 4-year program for each of the atmospheric sciences concentrations in Broadcast Meteorology, Climatology, and Weather Forecasting. Our Course Descriptions and Recent Syllabi page lists all courses with the ATMS prefix.
Declaration of Major in Atmospheric Sciences
Students can declare their major or minor online.
Atmospheric Sciences Minor
Students may also minor in atmospheric sciences by completing 20-22 hours of specified courses, of which at least six hours must be at the 100-200 level, and at least six hours must be at the 300-400 level. ATMS 381–3, 490 and 499 may not be used to fulfill requirements for the minor. Your minor can also be declared online.
Second Degree in the Atmospheric Sciences
Students who have already received a baccalaureate degree from a regionally accredited institution other than UNC Asheville may earn a degree in atmospheric sciences from UNC Asheville by completing all course requirements for the major, but without the added requirements imposed by the Liberal Arts Core. Contact us for more information.
Learning Outcomes
Our graduates will:
discover accurate scientifically-based conceptual models of atmospheric structure and evolution on multiple spatial and temporal scales,
develop an ability to apply mathematical tools to governing laws that determine the evolution of atmospheric structures,
communicate conceptual models orally and through writing to a variety of audiences, and
make significant contributions to team-based research efforts and use problem-solving skills to address new and interesting challenges presented by atmospheric structures.
Our students nurture a deep curiosity about the natural world that often motivates them to continue their studies in graduate school and beyond.